The 2023 holiday season is here and we've put our expert lululemon knowledge to the test by curating 12 outfits for men and women!
Disclaimer: This post is sponsored by lululemon. We were compensated and the links below are affiliate links. All opinions are our own. Thank you for supporting Fit Foodie Finds!
It's no secret that we are lululemon fanatics. Heck, we own an Instagram account called @lululemonodoesitagain where we share the latest and greatest looks from lululemon with real person, real body reviews!
12 lululemon Outfits for Holiday Gifts
Every year we do a holiday gift guide highlighting our favorite lululemon products. We love that they always have core staples like the Energy Bra, ABC Pant, and Align Pant while also releasing limited time pieces that are holiday specific and/or seasonal.
This year, instead of rounding up our favorite items by category, we thought we'd curate 12 outfits (6 men and 6 women). We purchased and wore all of the gear we're recommending and also created a video so you can see these outfits in action on real bodies!
Of course we had to get the guys involved — they're almost more obsessed than we are. They've become experts in lululemon products and can pretty much name every men's style.
The 12 different outfits curated range from women's casual-wear to men's fancy to outdoor lovers. We tried to cover all of the basis for different types of shoppers.
<INSERT VIDEO>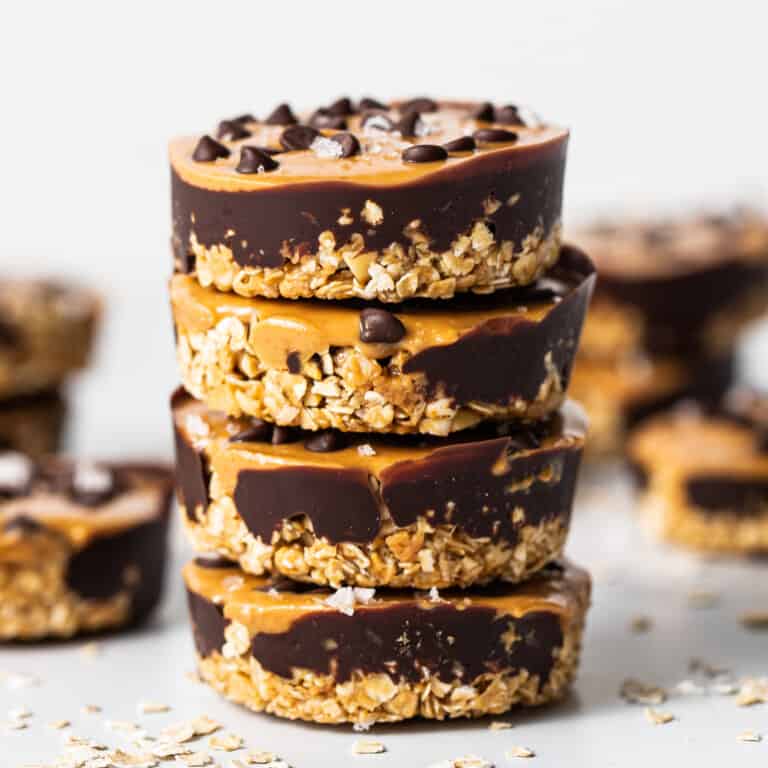 Get our Top 10 5-Star Recipes!
Join our email list for new recipes and BONUS: get our top 10 ⭐️⭐️⭐️⭐️⭐️ recipes e-book!
Women's Casual Warm-Weather Outfit
You can't go wrong with a Swiftly Tech Tank (in normal length for long-torso friends) and a Pace Rival Skirt for warm weather. The skirt has built in shorts which is such a great feature to go from the gym to normal everyday. I paired it with some Restfeel slides (feels like you're walking on a cloud) a fuzzy bucket hat, and my favorite larger-chested bra — the Align Bra C/D.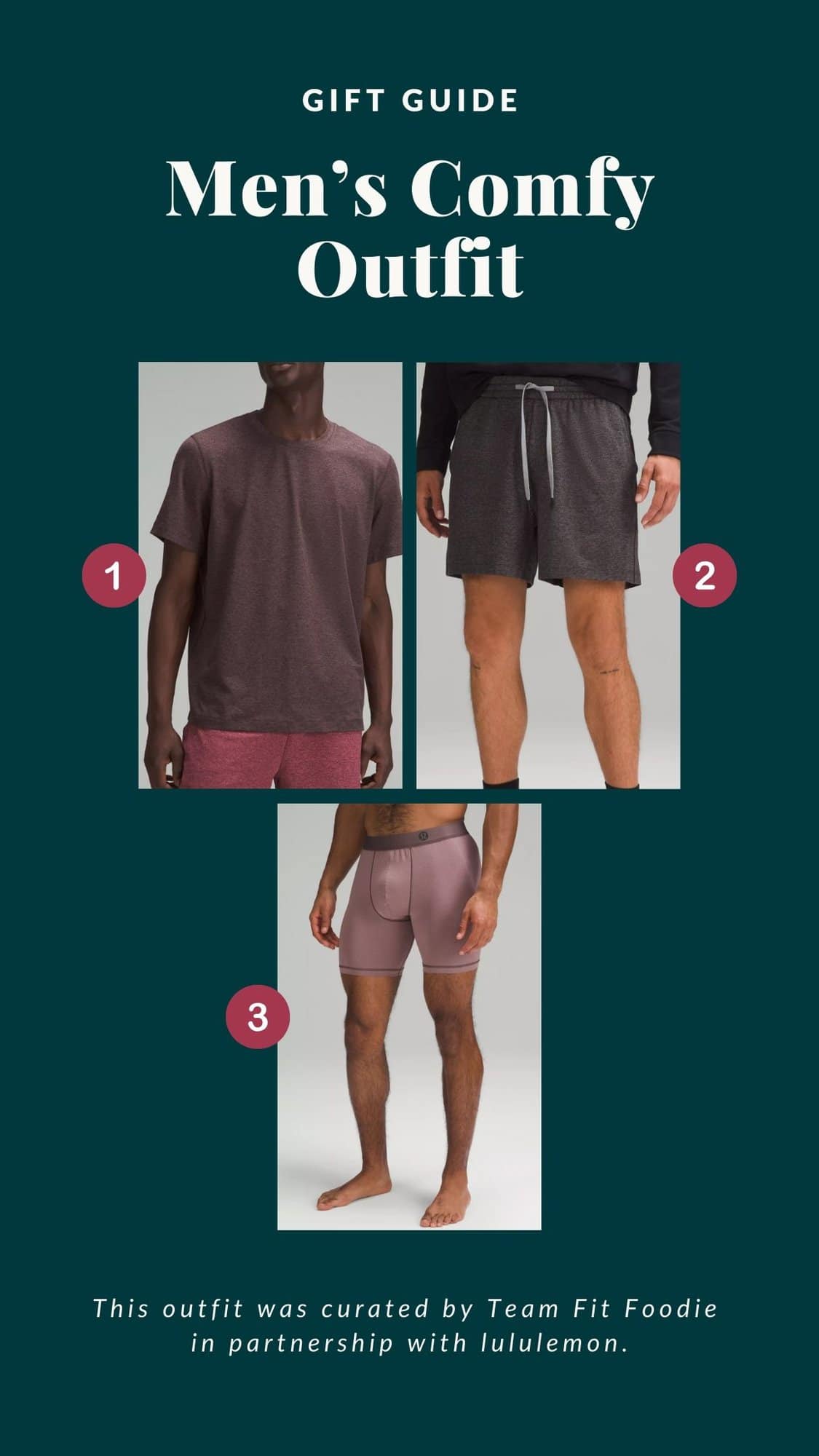 Men's Comfy Outfit
If you haven't checked out the Soft Jersey line yet. YOU ARE MISSING OUT. It's quite possible the softest fabric we've ever felt (and YES, they finally came out with a women's line too!). We love a classic monochromatic set and you've got a variety of colors to choose from as well as a pant and short option. My husband Mark has been wearing this set at night as after work lounge clothes.
Men's Fancy Outfit
If you know my husband Mark, you know he is 1. all about comfort and 2. loves making a statement at a wedding (usually with a matching set or bolo tie). He will be the first to tell you that he's obsessed with the New Venture Blazer. His body is on the slimmer side and it fits him so perfectly. BONUS – lululemon does FREE tailoring, so if you do need something tweaked, you're good to go for free! He paired the blazer with a white Commission Long Sleeve and his favorite ABC Slim Utilitech Pants.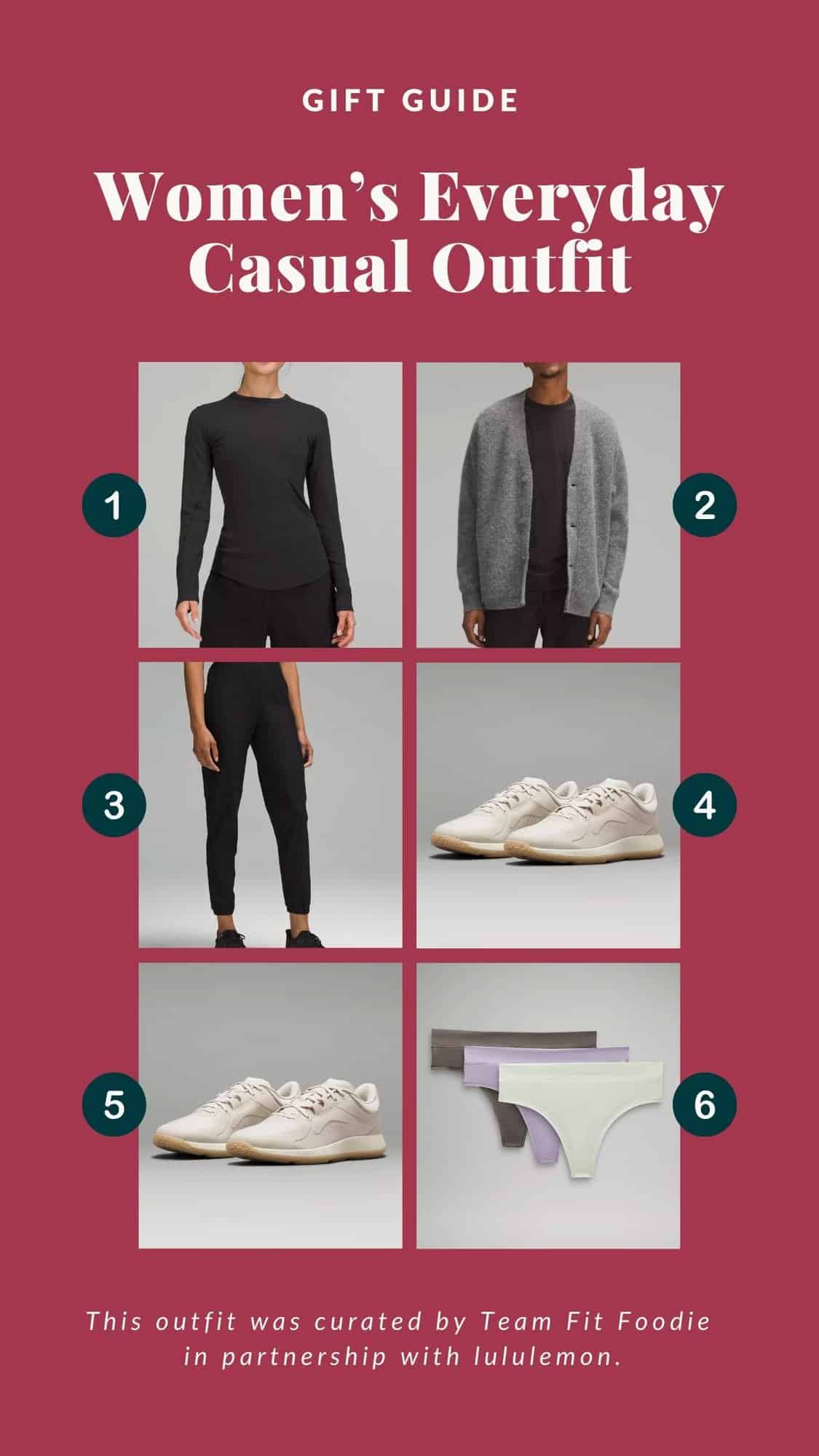 Men's Everyday Casual Outfit
Linley's husband Cole will tell you that 2 things matter to him — 1. comfort and 2. cardigans. Again, the Alpaca Wool Cardigan comes in strong with comfort and looks. He paired it with his favorite lululemon pant – the ABC Jogger and a 5 Year Basic Tee to round out a casual, but cozy outfit.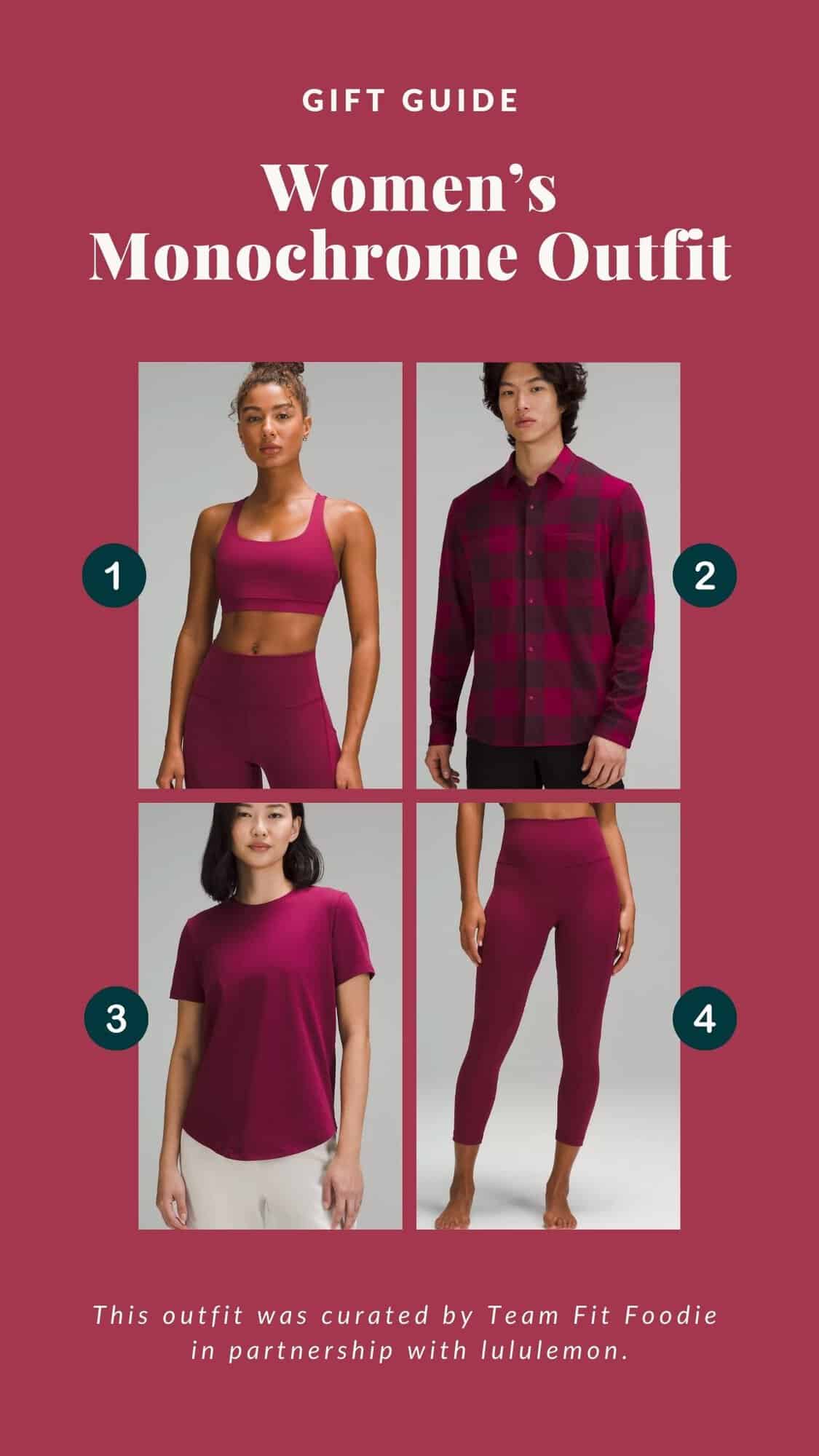 Women's Monochromatic Outfit
The fashion world loves a good monochromatic set and that's exactly what Linley did with this one. She grabbed one of her husband's checkered overshirts and paired it with the best leggings ever — the Align Legging and a matching Love Crew shirt for an outfit that winter comfy.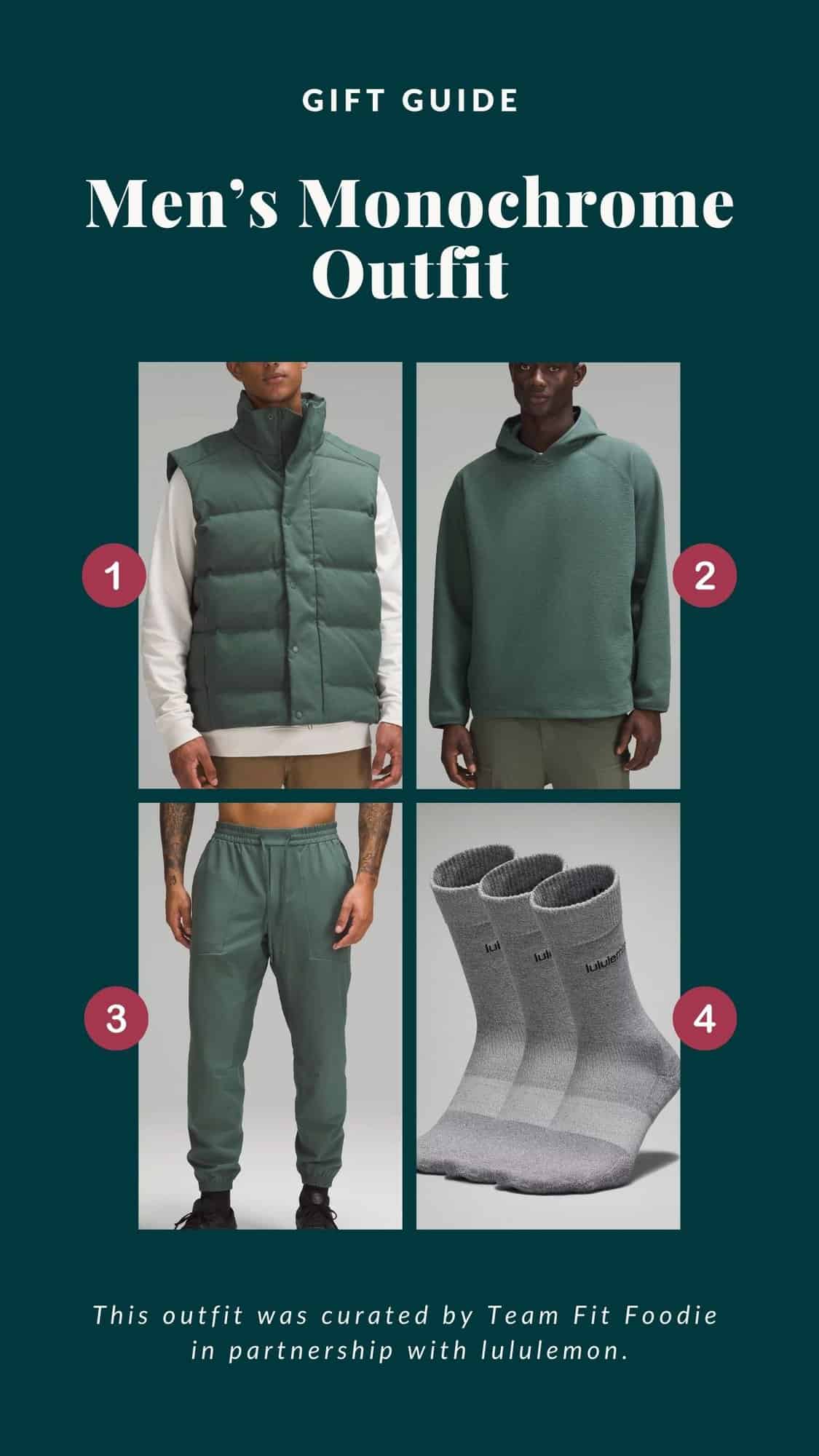 Men's Cold-Weather Outfit
Emily's husband Bryce is a coach and outdoor enthusiast and his monochromatic outfit suits him perfectly. He couldn't pass up the Textured Pull Over under a Wunder Puff Vest for layering along with the ABC Utilitech Pants (BEST durable fabric)!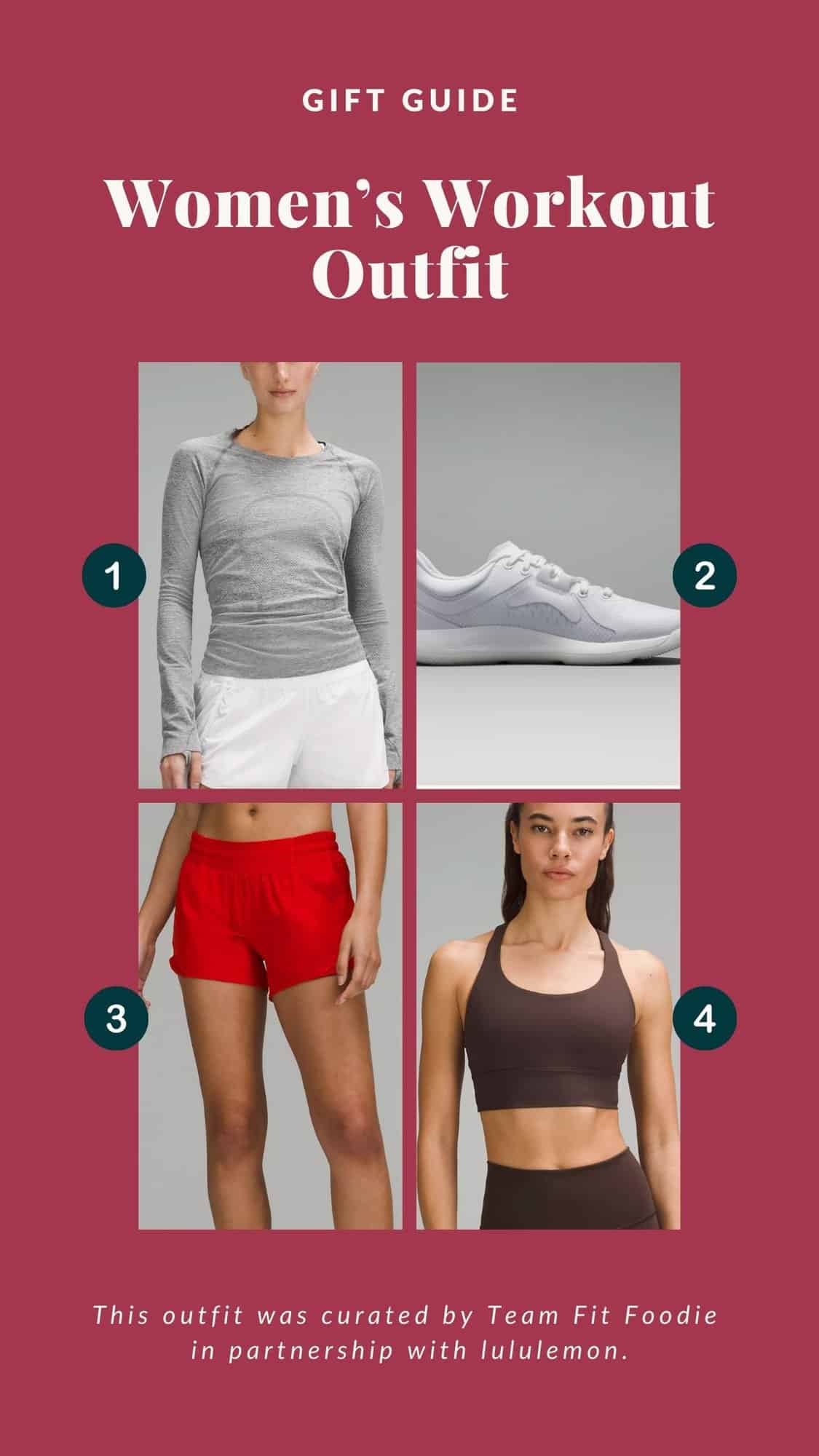 Women's Workout Outfit
Emily chose all of her favorites for this lululemon workout outfit. She loves the Swiftly Tech Line (has every sing cut!) and the Hotty Hot Shorts in the 4″ length is so perfect for postpartum. She loves wearing her Chargefeel Shoes not only for working out but for everyday usage and walking.